One of the underlying principles of our work as SEOs is to try to determine why people are looking for what they're looking for online. We want to understand the searcher's intent so we can make it easier for them to find our site. While your business or organization's marketing team understands your product or service quite well and can therefore describe it fluently on your website, marketers and customers don't always speak the same language.
Human-Centered SEO Strategy
While coming up with a keyword strategy for your website, you might think visitors will search for brand name X, product Y, or feature Z to find your website/product/service, etc., and these may end up being useful seed keywords. But your strategy should not end there. These are words from your language; will customers be using those same words in their search? Let's say you're the audio giant Bose. You might call your product the Mini SoundLink, but are customers going to search for your branded product, "Mini SoundLink," or a more generic "portable bluetooth speaker" in the search bar? This is relevant for both B2B and B2C communications – it's important to consider your audience.
Drilling a little bit deeper, generalizations about your target audience can help you decide on keywords, but it's important to remember that a target audience is not a homogeneous group. Apply the ubiquitous iceberg example to each of your visitors: their behavior (in this case purchase, or conversion) is only the tip of the iceberg. Looming beneath the waterline is a mass of the visitor's thoughts, feelings, beliefs, and attitudes that support and inform their behavior. There's a wealth of useful insight to be gained by diving under the surface.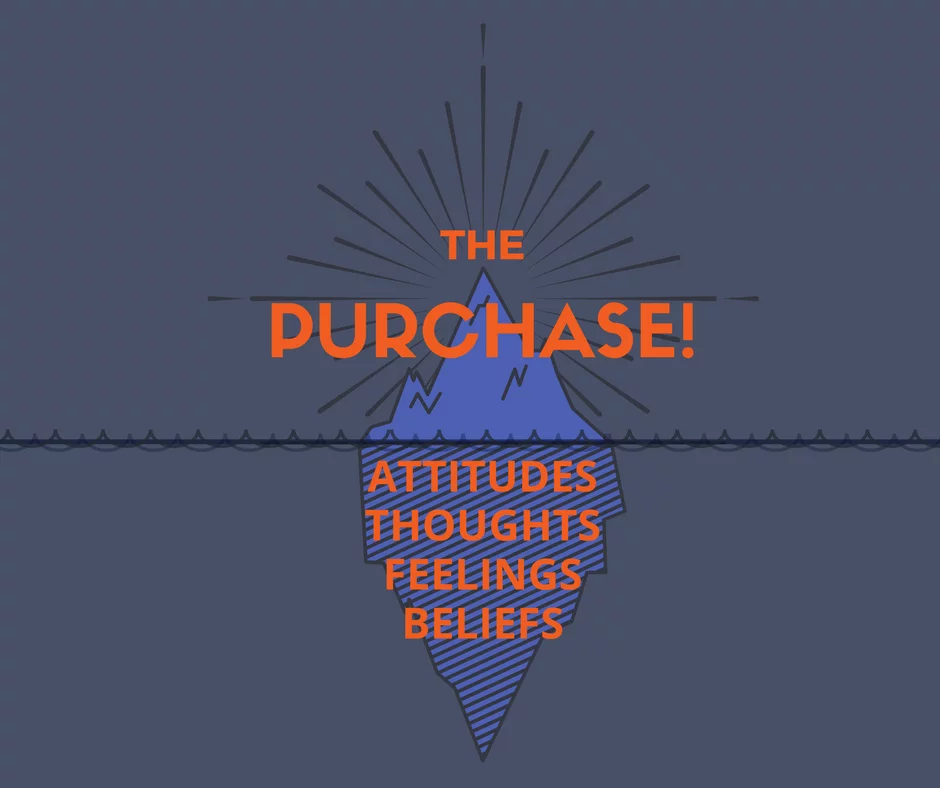 The customer's purchase decision is informed by their attitudes, thoughts, feelings, and beliefs.
No More Marketing Funnel
We know that the traditional marketing funnel model is now somewhat obsolete, and that brands are more capable than ever to customize messaging for customers online. Customers can  stumble upon your product or service at any stage in the consumer decision making process, and a customer's consideration set often expands before it narrows. Therefore, websites need to have content available to meet customers' needs at any stage in the consumer journey.
While your ultimate goal may be to achieve a purchase, people who land on your website won't always be looking to purchase; in fact, people typically won't make a purchase on their first visit to a website. It follows, then, that your website shouldn't always be pushing for that sale. However, you should still take every opportunity to guide visitors toward purchase.
If your website content only conveys what you have to offer (products or services), you're missing out on capturing potential customers. Think about what consumers might be searching online that's in the periphery of your product, category, or industry. How can your website content capture their attention when they're not yet aware of your offerings, or considering their options, or ready to buy? Using empathy for consumers while planning or reworking your website can help you can best meet your visitors' needs, whether they're ready to purchase or not.
Human-Centered Content
Creating empathy maps can help you climb out of your business-person brain and into the mind of your current or potential customers. Empathy maps go beyond personas by mapping what an individual customer might think/feel, see, hear, say/do, their pain points, and what they have to gain. Consider each of these areas for potential visitors to your website. Do you address these areas for various customer personas on pages throughout the site? Taking the time to understand your audience allows you to provide content that will be useful to them, no matter what stage they're on in the decision making journey. By considering the visitor's needs, you are making the progression to a conversion much more natural for the visitor.  
Let's say your company is one of the many meal delivery subscription services, like Blue Apron. What kind of people use Blue Apron? The first type of customer that may come to mind for these subscription boxes is a busy mother who doesn't always have time to shop for fresh groceries and prepare meals. But what about the male young professional who, after recently leaving the comfort of college meal plans, suddenly finds himself in the position of needing to prepare his own meals?
Beyond using the language of your audience in your keyword strategy, are you giving your visitors the information they are looking for? Are you showing how you can solve the problems that drive their search? Do you need to organize your content differently to effectively target your content to users at different stages in the consumer journey?
The Bottom Line
Let your findings from creating empathy maps inform your keyword research and content ideation. Well-written content on relevant topics will keep visitors interested in what you're selling, no matter where they are in the decision making process.