iOS 14 & Facebook Ads Conversion Tracking Guide
Big changes are on the horizon for marketers as to how you can gather, record, and optimize data in your Facebook Ad campaigns. Is your ad account setup in a way to ensure your remarketing audiences don't significantly drop? Are you worried about losing conversion data? You should be. Don't worry, as usual, we've got you covered. Below we discuss more about what this update is, what it means, and how you can be proactive to ensure your Facebook campaigns don't take a hit. 
What is the Apple iOS 14 Update?
In an effort for greater user privacy, Apple has announced changes with iOS 14 that will impact how advertisers receive and process conversion events from tools like the Facebook Pixel. Once live, Apple device users will be given a prompt when opening apps that asks them if they would like to allow permissions to track you across apps and websites. If that person DECLINES the prompt, then marketers lose Facebook Pixel tracking abilities that we are used to having to track that particular consumer. 
Apple iOS 14 Update Rollout 
In discussions with multiple Facebook marketing experts and in reading what other industry experts are saying, there is not a solid roll out date this update will be released. We expect this rollout to happen in the next couple of months (early Spring 2021). What we do know is that it's not a matter of IF… this update is going to happen and as marketers we need to be prepared.
How Will Apple iOS 14 Impact Facebook Ads?
What it comes down to is Apple is simply making it more difficult for Facebook advertisers to track user behavior. Once the update goes live we can expect to see the following:
Attribution and reporting has changed. By default, Facebook has adapted to a 7-day click and 1-day view attribution model. Previously, the default was 28-day click and 1-day view. For example, if your main objective is to drive lead form submissions you may have noticed a drop in leads reported inside of Facebook recently. This is because people who may have submitted a form, beyond those initial 7 days since clicking, are no longer being accounted for.   
Domains are now limited to track only 8 events. Facebook will now be using Aggregated Event Measurement as a protocol for measurement of web events from iOS 14 users. Facebook offers many events to track such as add to cart, purchase, leads, view content, initiate checkout, etc. There are well over 15+ website and app events to be passed along to Facebook for reporting. Advertisers will now be limited to choose up to 8 events that are of most importance to track. 
Remarketing audiences will shrink. As

70-80% of website traffic is mobile

and

61%+ of that is iOS

you can see why this is a BIG deal. Let's say 70% of your ecommerce customers are Apple users. You have now lost a significant amount of people to keep products and the brand in front of. A missed opportunity to drive further purchases.  
Conversions API – The Solution For The Update
Conversions API (CAPI) is the replacement for the Facebook Pixel. The main difference between the two is Conversions API fires at the server level, while the Pixel fires at the browser level. What this means is that using Conversions API, when properly configured, we can actually gain even more accurate data than before. With user and event tracking at the server level data is not lost when users are using browser level ad blockers.
Setting Up Facebook Conversions API (CAPI) For WordPress Site 
Step 1 – Verify Domain
In our quest to set up Conversions API on your website, first make sure that your domain is verified within Facebook Business Manager. 
Once you're inside Facebook Business Manager, navigate to business settings in the top left corner and then find domains under brand safety in the left hand menu.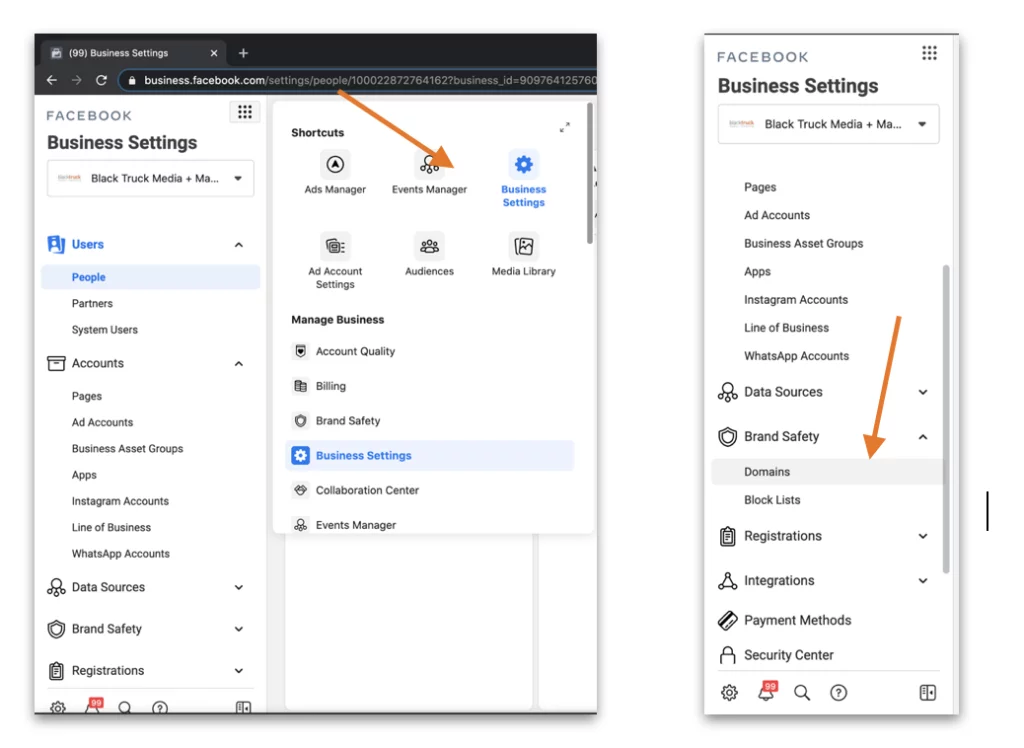 Upon selecting domains you will get a screen to add or see the status of your domain. Go ahead and click add and type in the domain of your website into the text box [example.com].
Facebook then gives you three options on how you would like to proceed with verifying your domain: DNS Verification, HTML File Upload, or Meta-tag Verification. Each option gives straight forward directions that most developers should be able to follow. However, Facebook Marketing Reps have made it clear that Meta-Tag Verification is the most simple and straightforward option.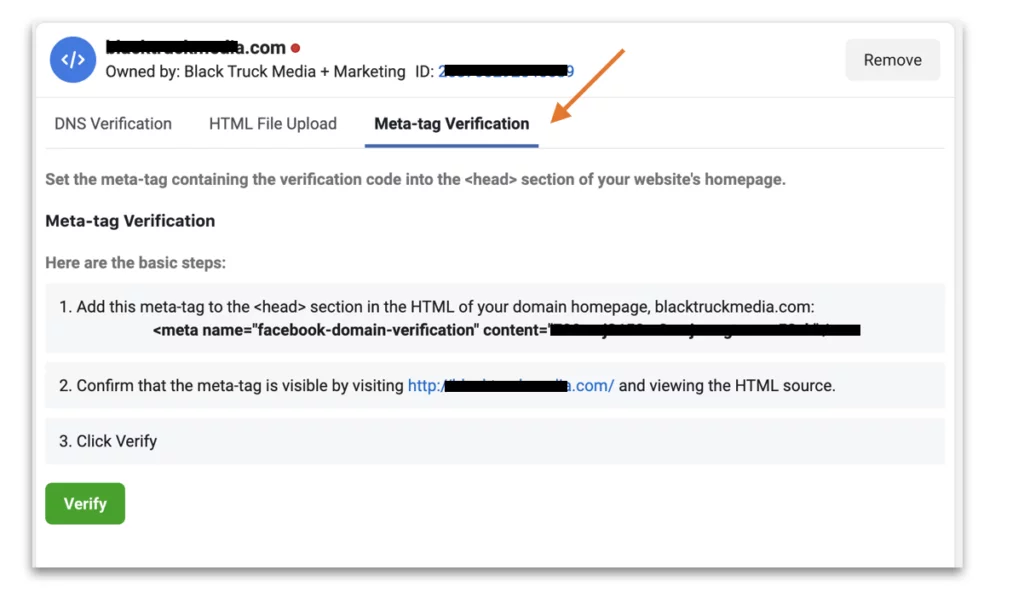 Using this method, you have to set the meta-tag containing the verification code into the <head> section of your website's homepage. Facebook, gives you step by step direction on how to accomplish this. If you are not familiar with your site's backend or how to manually add the code snippet onto your site, we recommend reaching out to your developer to do so. This is a relatively simple task for individuals with a web development background and the proper access.
Once verified you will see a green dot next to your domain name! 

Step 2 – Setup Conversions API on Your Site
Depending on what platform your website is built on there will be different steps to take for each. If your site is built on WordPress, WooCommerce, or Shopify you're in luck because Facebook offers partner integrations and plugins to be used for a simple setup. For this walkthrough we will be using a Plugin on a WordPress Site. 
Conversions API with PixelYourSite WordPress Plugin
Navigate to WordPress and install and activate the plugin below.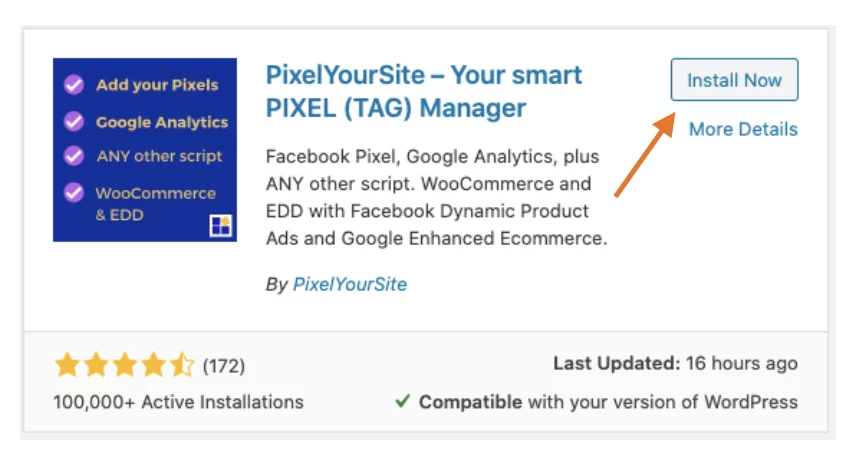 On the left hand side of your WordPress dashboard you will find the PixelYourSite plugin. Click on that and you will see the following screen. We need to fill out the blank fields.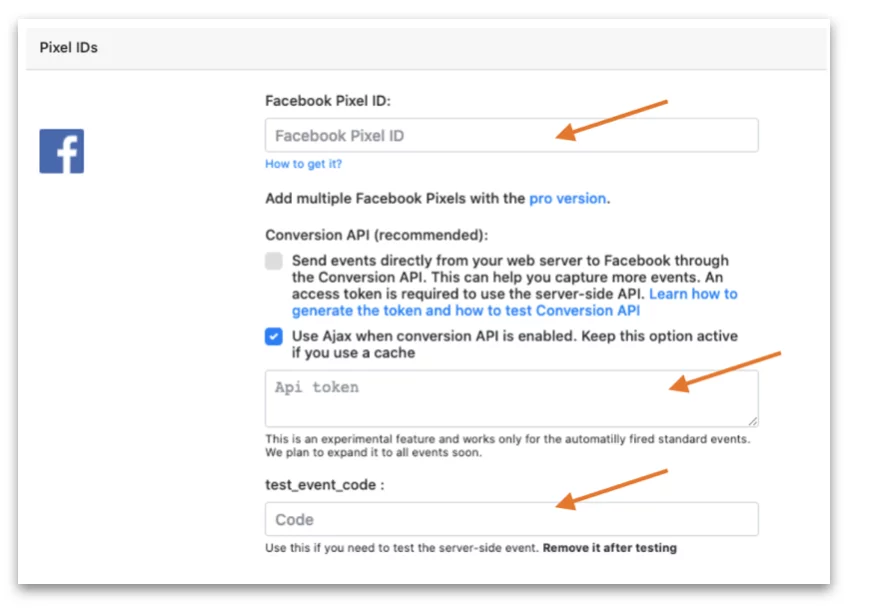 Navigating back to Events Manager inside of your Facebook Business Manager we are going to gather your Facebook Pixel ID, API Token, and get a test event code.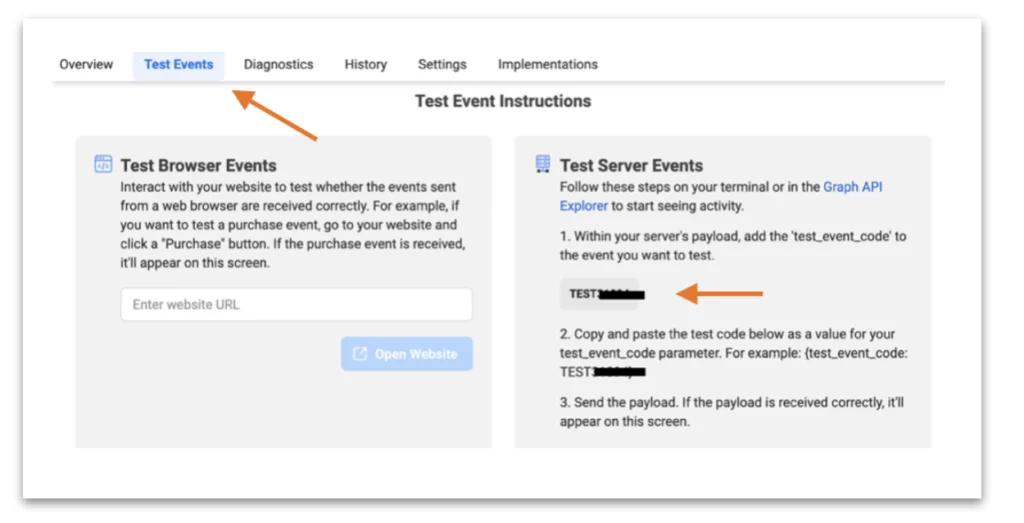 Copy and paste all the information over into the PixelYourSite plugin. The plugin dashboard should look like this. Now that everything is filled out you can save your settings at the bottom.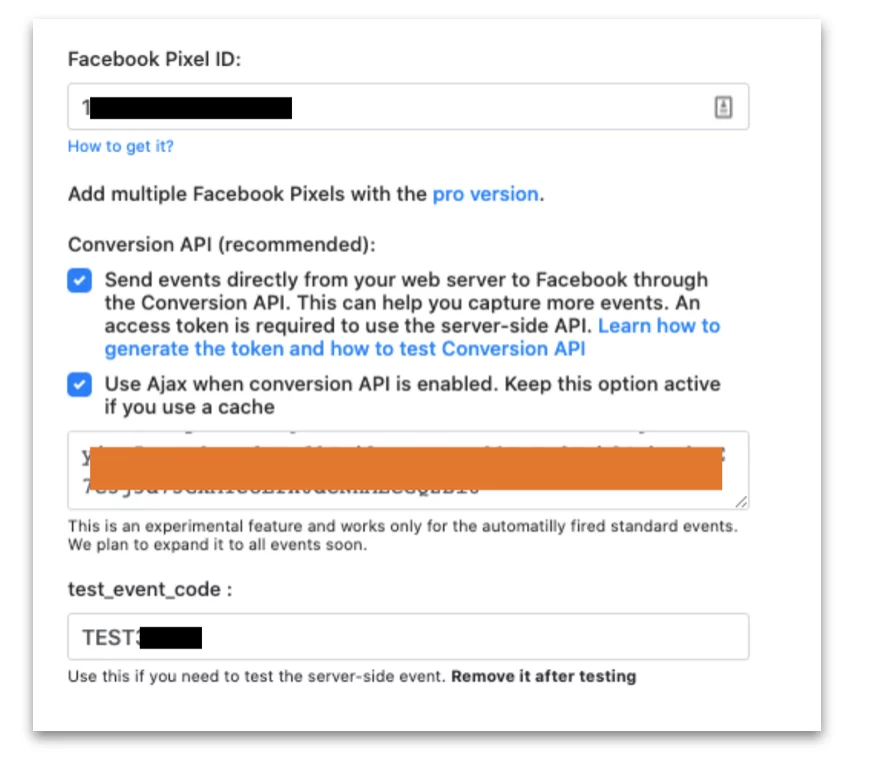 To make sure the Conversions API is set up properly navigate back to Facebook Events Manager and go to 'Test Events.' Open up your website in a new tab and monitor events received in your test events screen. You will see your page view event being received from the server level. If the event fired successfully make sure you go back into your plugin settings and delete that test code and save your settings. 

Step 3 – Set Up Events
If you have been running Facebook campaigns previously chances are you already have events setup. If not you can use the Facebook Event Setup Tool or manually implement event codes using Tag Manager. For the purpose of this walkthrough we are going to assume that events have already been set up. 
Step 4 – Configure Events with Aggregated Event Measurement
When the iOS14 updates are released by Apple, events will be passed through Facebook's Aggregated Event Measurement. In order for this to happen we need to edit the events that are setup on our domain and assign a priority level. We are able to drag and drop events based on high to low priority. Remember, we are now limited to 8 events!  
This can can be done by navigating to Events Manager and going to 'Overview.' On this screen you are going to want to select configure web events. 

The following screen will display a list of domains associated with your business manager account. Choose the domain that you have been setting up the Conversions API for and select 'Edit Events.' 
From there the events that you have set up for that domain will appear. Make sure your highest priority event is established and you are all set! Now you will not lose this valuable event data in your reporting and you can get back to optimizing your campaigns for success.  

When Will the iOS 14 Updates Impact my Ads?
Don't delay. We know Apple is releasing this update and Facebook ad campaigns will be affected. Facebook has been stepping up their efforts and tools to make sure advertisers can continue creating optimized campaigns for the platforms users. 
Ultimately, it's a step forward in the right direction for user privacy. Which is great and what we should all be for. However it forces us marketers to make yet another learning shift in how we gather data, set up campaigns, and educate the brands we have the privilege of working with.
We hope this guide helps you be proactive when navigating this change, setting up Conversions API, and Aggregated Events. Reach out if we can be of help!