Episode 34 / February 16, 2018
Listen now:

In Episode 34 of The Redirect Podcast, Jason had the opportunity to record a deep dive discussion on Google's mobile-first index with Cindy Krum, CEO and Founder of MobileMoxie. She recently published an in-depth blog series on the mobile-first index and the impact it will have on brands.
A breakdown of some of the themes from this episode:
An explanation of what "mobile-first index" means (begins at 2:30).

Cindy suspects image search is purely mobile-first already (begins at 7:36).

Capitalizing on micro-moments using Schema markup (begins at 21:37).

The future of e-commerce with voice assistants (begins at 27:30).

How brands can take ownership of voice prompts (begins at 35:47).

Cindy's three key takeaways related to the mobile-first index (begins at 45:45).
While these notes are chock-full of information Cindy shared with us, you can learn much more from her "Mobile-First Indexing or a Whole New Google?" articles on the MobileMoxie blog. The articles are also linked in related sections below.
What Does "Mobile-First" Mean?
Cindy suggests the meaning of "mobile-first index" can be found in breaking down the words:
"Mobile" goes back to what it meant before mobile phones – it means movable and portable.

"First" means prioritized, but not

only

– that's an important distinction.

"Index" is a concept from way before search engines – an index is a vast repository of organized information, or a way to find organized information.
So, "mobile-first indexing" means a "portable, prioritized organization of information."
Google currently has a desktop index and a mobile index, and they want to transition everyone in the desktop index over to mobile index – even desktop-oriented sites and websites that may be slow. The mobile index will include all the information that the desktop index did.
Gary Illyes recently confirmed that your website is either in one index or the other, not in both indexes. Google has said that some sites have already been transitioned to the mobile-first index; the fact that no one's freaking out over losing rankings through the transition indicates that the current algorithm is pulling from both indexes.
Google has been rolling out the transition slowly, but it is already rolling out.
[Read more on this topic from MobileMoxie: Is Mobile-First the Same as Voice-First?]
Image Search in a Mobile-First Environment
Images are easier to make mobile-first in some ways as they will never be voice-only; an eyes-free image search is not possible. Cindy points out that Google's image search appears to be much more semantically organized and entity-understanding than it was before. Arranging images by entity understanding also allows world languages to be used together. She explains that entities are language-agnostic, and for image search now, "blue chair" means the entity of a blue chair, not just the language-specific keyword (listen starting at 9:35 for more on this concept).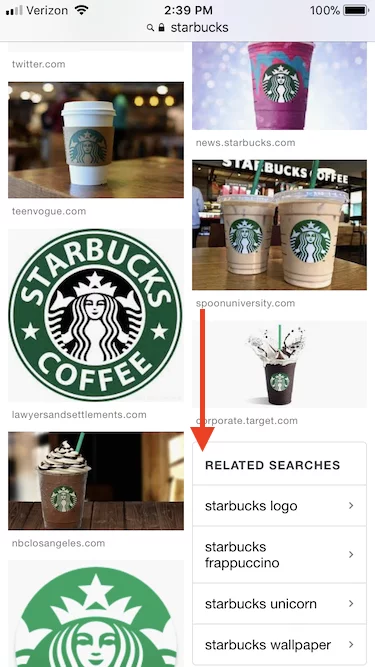 Using a Starbucks image search like the one above as an example, Cindy explains that AI learns from giving users these multiple choice options. The options help the AI to learn, since it is using filtering categories that the AI already knows. The AI can then predict "the most likely next step" after a certain query.
[Read more on this topic from MobileMoxie: Media Searches and PWAs]
Capitalize on Micro-moments Using Schema Markup
Micro-moments refer to those thoughts people have when they reach for their phone to perform a search: I want to know, go, buy, or do. Assistants are capable of doing things that fall into those categories. Schema markup allows Google to get information faster and more easily than through crawling. Marking up with schema is important for mobile-first indexing because it's about surfacing in a voice-organized filtering situation.
Cindy gives a great example of this: You can tell your device, "OK Google, I want to listen to country music." It can either start playing music, or ask a question. Now let's say your command is, "OK Google, I want to buy country music," and it asks what kind of country music you want to buy. You can say, "Something with a good banjo." If you're selling country music, and your page is marked up with banjo in the schema, your product will be included in the filter. If there is music that has banjo, but it's not marked up in schema, it will be filtered out. In any voice-oriented, entity-understanding situation, if you're not marked up properly, you're going to get filtered out on the first filter.  
In other words, Schema provides a path of least resistance to getting information.
The Future of E-Commerce
With Google Express, Google is trying to compete with Amazon's Prime and Fresh. It is also voice-enabled, and customers can reorder items. Google Express also manages loyalty accounts, so users are not restricted to one store as much as with Amazon.
When Google is able to take in feeds from local store inventories so they can be sold in Google Express, they will have a good idea of individual stores' inventory control system. This can help companies improve on "pick up in store" features, for one. But the money will be in delivery, which could someday involve Google's driverless cars.
The buy-in from stores is currently slow, however, and there are minimum purchase requirements for customers to get free shipping. Customers don't want to pay for shipping! If Google can get stores to buy in, and is willing to take on the initial loss incurred by offering free shipping, they will have a better chance of competing with Amazon.
[Read more on this topic from MobileMoxie: Shopping/E-Commerce and A Supplement on SEO Strategy for Voice Search in Shopping]
How Brands Can Take Ownership of Prompts
Creating Google Actions for your business will be a great way to surface in search, and it's not a terribly complex process. It is essentially done by creating a chatbot for which you have program in the first few commands, and which will "learn" to be more helpful over time.
Cindy uses the example of OpenTable; searching for a restaurant in Google from a smartphone brings up a utility directly in the SERP for making a reservation. You give the time, the number in your party, and can book a reservation without even using the app or directly communicating with the restaurant.
Actions are designed the way they are – just a few questions, all multiple choice – because every question that happens in an Action's individual interface can also be done by voice-only. So, sticking with the example of making a reservation, instead of radio buttons on a screen for choosing a time you want to be seated, the assistant will ask "What time would you like your reservation?"
Think about incorporating the most commonly asked questions related to your individual business. All of the voice data that goes into the chatbot gets associated, and if it doesn't fit with what you've set up with the chatbot, it is left aside for a human to categorize. This way, the bot gets trained over time, ultimately creating a better user experience.
Cindy recommends DialogFlow, formerly known as api.ai, as a resource for building these conversational interfaces.
Key Takeaways
Cindy's three major takeaways related to Google's mobile-first index:
It's likely we'll see more device-specific algorithms surfacing. If the device-specific context is detected, the search engines can understand which kind of micro-moment the user is in. Results will vary based on device and intent.

Progressive Web Apps (PWAs) are easier to crawl and index because Google is crawling the API into the service worker. Put more simply, this gets rid of anything from the site that is not critical, essentially weeding out all the code and giving Google the good stuff for the index. PWAs will be viable in a voice-only context because it will be easier for Google to extract something that can be read out loud.

Get a Pixel. Get the newest Google phone you can. "That's how I'm able to see the future." says Cindy. Google is releasing and testing things first on their own devices, so using their devices offers valuable access to seeing developments as they occur.  
Thanks for tuning in! To catch future episodes of The Redirect Podcast, subscribe on
SoundCloud
,
iTunes
, or
Stitcher
.
And check out the BlackTruck Media + Marketing blog for more reading on SEO, SEM, social media, and content strategy.