Episode 38 / March 16, 2018
Listen now:
Welcome to The Redirect Podcast, where the BlackTruck team shares recent insights and takeaways from the world of search marketing.
In this week's episode:
Google officially confirmed a broad core algorithm update this past week, and many blame the update for fluctuations in rankings across the board. Was your site impacted? (begins at 16:34).

On the heels of the latest algorithm update was the rollout of Google "zero position" results, or results that give you just one answer and nothing else. How does affect your SEO efforts? (begins at 1:12)

More changes are coming to Google AdWords platform, but for the positive. Annotations will be one of those major changes we're excited about and will explore more (begins at 18:55).

Continued discussion of Google My Business as a follow up to

Episode 37

(begins at 23:05).
Google Core Algorithm Update
Last weekend, Google confirmed that a core update took place, the type of which Google's Danny Sullivan says only happens several times per year (vs. small changes that happen as frequently as daily). Later in the week, it was confirmed as a "broad core algorithm update." (Read more from Search Engine Roundtable.)
There certainly has been discussion online about people's rankings shifting down or up coming out of last weekend. Many are reporting to have come out on top. This is something SEOs will continue to monitor and create new strategies in response as necessary.
More Changes to AdWords
In 2017, the AdWords interface went under the knife for the first time in a number of years. While still in beta, the new interface is much better than the old – especially after you use it for some time and get to understand where everything is at.
PPC managers using AdWords will have another reason to rejoice in these changes with the next round of upgrades to rollout. This one is in the form of making notes. Similar to the annotations function in Google Analytics, those managing PPC campaigns will be able to make a note that is visible to others in the account. These can caption items such as the performance segment within a graph, just as annotations do, and can be detailed to show and provide background as to why something might have spiked or changed over time. These changes should roll out over the next few weeks.
Zero-Result SERPs
On the heels of Google's recent core algorithm update was a change to how Google displays search results for certain queries, such as local time, measurement conversions, and calculator searches. Those discussing this change in the search community are calling it "zero-result SERPs," as rather than having the usual Featured Snippet/Knowledge Card (if applicable) and a list of blue links, these results show only the snippet that quickly answers the query.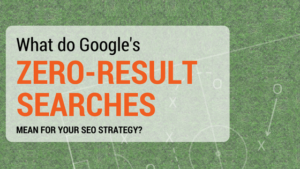 Though Google has since reverted zero-result SERPs (as of the evening of March 20th), we can take this brief experiment as a sign of what is to come from Google.
Read more on our blog: Marketers React to Google's Zero-Result SERPs
Bonus Reads:
"Google's Walled Garden"
Dr. Pete Meyers recently wrote another great article on the Moz blog, which includes examples of the many, many ways Google is building "in-search experiences" – essentially keeping searchers on Google and navigating through their own interface and content, rather than sending searchers off-site. This piece is well worth reading – the visuals alone help to understand Google's interface, and there is plenty of good discussion in the comments.
THE FUTURE IS NOW.
You can now order Dunkin' Donuts for delivery using the Google Assistant app. Read all about it from The Verge, and get one step closer to delicious donut delivery thanks to Google.
Descriptions Come Back in Google My Business
And as a follow up to last week's podcast: You can update your descriptions in Google My Business again! Learn more on Search Engine Roundtable. We also discussed other areas to keep in mind for keeping this property relevant and optimized, such as rotating images according to seasonality and monitoring user-submitted content associated with your listing.
Thanks for tuning in! To catch future episodes of The Redirect Podcast, subscribe on
SoundCloud
,
iTunes
, or
Stitcher
.