Episode 56 / September 7, 2018
Listen now:
Welcome to The Redirect Podcast, where the BlackTruck team shares recent insights and takeaways from the world of search marketing.
In this week's episode:
A look at changes to the Google Ads platform and Close Variants. What these can mean for search marketers and your campaigns in the coming months? (begins at 5:00).

Keywords and links have been the backbone and focus of search marketers forever. Not so much these days, and they haven't been for quite some time now. Enter Semantic Search and the breakdown of keyword themes, the impact this can have on your content strategy, and positives for SEO (begins at 13:53).

Plus, do time/date stamps on your content really matter? The debate takes multiple sides with an interesting outcome (begins at 20:30).
But first: Chrome and DuckDuckGo both turned 10 this week (who do you think has more market share?). Plus, (begins at 1:46): Google Search Console is out of beta! There are pros and cons to the new interface, and as with all updates, it will take some getting used to. Some features are missing in the new version compared to the old Search Console, but they will be migrated over to the new interface in the future. Read more from Search Engine Roundtable.
Semantic Search: More Than Just Keywords
As it was pointed out in a recently on Search Engine Journal, SEO strategy has changed over time. Focus on second half of the article – not the historical search trends. We know where search has been and what it's meant to be successful.
Though keywords and keyword phrases are still the backbone and focus of search and content, trends are moving away from success coming from targeting keywords alone. The best strategy today is for your site's main pages or resources to focus on topics—topics that can be covered in-depth and be broadly authoritative across your site, in comprehensive and original content.
Instead of individual pages that focus on one to two specific keyword phrases at a time, look at entire keyword focus concepts as a whole. Think of themes and topics you want your entire site to be known for. Consider covering multiple closely related subjects on several pages, rather than one page devoted to subject A/keyword A, one page for subject B/keyword B, etc.
Semantic search is getting smarter and smarter as natural language has become more and more important to the search environment. Variations of types of searches (coffee shops in LA, LA coffee shops, where to get coffee in LA)  are no longer as important to target as they once were. Searcher intent is key to keep in mind here. Geo modifiers can have a large impact on how a result appears based on where that searcher is physically located. From a recent conversation, localized search is not based on where you live or where the device is registered, but where it's physically located at the time of the search. As we've discussed the differences in "near me" vs. "in [city]" queries in the past, we can see the a similar difference in user intent.
Don't repeat phrases in your content, but repeat themes. Organize your keyword lists by searcher intent, and then create content around these intents. "Where to buy X" vs. "Comparing X to Y" have different intents and will have different search results, even though they are authoritative sources for different intents on essentially the core subject. Doing this will help the possibility of showing up in more SERPs for a greater volume of relevant search queries.
Of course, technical SEO is still very important with semantic-based search. The following are still critical to have straightened up before diving too far into intent-focused content:
Keywords

Link building

Structured data

Errors

Site Speed

Optimize Site Structure (good UX)
We've talked a lot on UX (User Experience) and how it's crucial to make a user's experience as flawless as possible and get them all the information they needs as quickly and painlessly as possible. This obviously includes mobile UX, as well.
Do Time/Date Stamps Matter?
We've seen some debate in the past over whether having the date visible on web pages and blog posts really matters, in terms of search and for user perception. Our team had a discussion and debate on this episode that's worth a listen.
The topic came up again recently when John Mueller from Google responded to someone on Twitter, who had asked about the effect of publishing an article without a date, that you should put dates on content because it helps your users. (Mentioned on Search Engine Roundtable.)
As with everything else when it comes to strategy, it depends on the situation. Our team discussed that there's a difference between the original publish date and modification date; the date stamp in the CMS and the date stamp that may appear on the page. We also pointed out that dates don't always appear in search results, but if the search or source is time-sensitive (i.e., related to news, celebrities, politics), there will probably be a date attached.
Patrick brought up the function in Google search to narrow results by time (under "Tools"), and that dates are important to this function. The conversation landed at agreeing that using this function means that information from the given timeframe is the priority for the searcher.
What About Freshness?
While a page's "freshness" is a factor in how Google determines search rankings, many marketers have tried to game the system by simply updating the publish date (and only the publish date) to try to get their content ahead. This is not how you do SEO. Yes, searchers will probably be looking for the most recent date when it's visible—again, when the query is on a time-sensitive matter. Maybe the real question in this debate is "does it matter that you have the most recent information, and if so, do you?" (Read more on the freshness algorithm update from Search Engine Journal.)
Part of the inspiration for this discussion came from Taylor Coil's presentation at MozCon 2018 (which we also discussed a bit in our MozCon recap in episode 51). She challenged marketers to rethink content strategy from being about "blog posts" (and content strategy should be much more than just blog posts) to "resources."
Resources should be timeless, or at the very least can be updated over time. Does a recent date on a How To guide really matter for an activity that doesn't change over time? Conversely, could older date stamps actually work against your credibility when it's a timeless topic?
(This is all different, of course, than for blogs maintained for PR purposes or to share new bulletins with timely updates, when dates are important.)
We'd love to know if you have any thoughts to contribute to the debate!
Close Variants in Google Ads
Google pushes further into the machine learning realm with another new update to its Ads platform. This time, they're taking aim at close variants (of keywords) in an exact match play.
Close variants are nothing new. Jump back to around 2014, when misspellings and plurals were included. This meant you could target the phrase "blue sock" and have it also be relevant for someone seeking "blue socks," as well as "blue sox." (Don't confuse that with Red Sox.) Then again in 2017, this inclusion expanded for different functions of words or their ordering.
The goal of close variants this time around is to predict a user's intent. Again, with machine learning, Google is working to understand the what and the why behind the search. So what does this mean, or even look like in practice?
Below is an example from Google showing which close variant queries would be considered a match.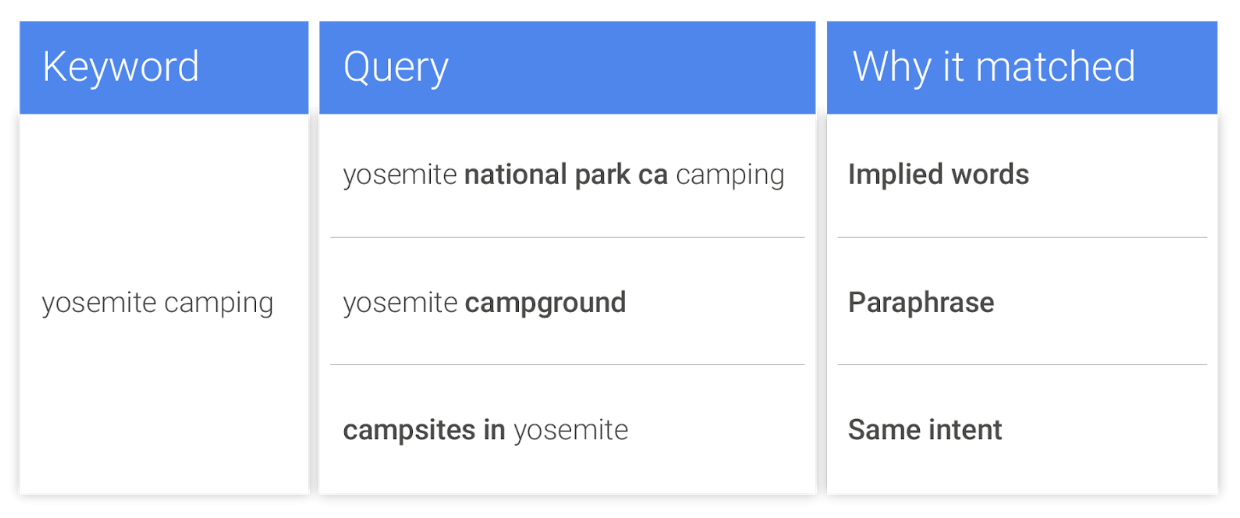 This person is clearly researching camping in Yosemite. Note, this change does not apply to broad match, broach match modifier, or phrase match. So for instance, if your set keyword is "yosemite camping," then "cheap camping in yosemite" or "free camping in yosemite" will not trigger your ad.
Why This Change?
Among all the searches done every day, 15% are new queries. Being able to expand Google Ads' keyword matching in this way gives advertisers more opportunities to show their ads. This also removes the need to keep intense lists of variants, or to control such a large negatives list. You could have done this before with a modified broad match strategy, but you'd have to keep a pretty large negatives list to weed out things.
Because of this change, you'll want to pay attention to your search term reports, particularly before vs. after this rollout, and watch your negatives list as you may need to or remove some add in new keywords. Read more on this change from Ginny Marvin on Search Engine Land.
Thanks for tuning in! To catch future episodes of The Redirect Podcast, subscribe on
SoundCloud
,
iTunes
, or
Stitcher
.