Note: This article was originally posted on June 30, 2017. It was updated on July 28 after we noticed a change in the image dimensions Google now allows for its posts. 
After a year of taunting and beta testing with larger brands, Google moved Posts into their Google My Business (GMB) platform, opening it up to millions of small businesses.
Per Google, Posts is "an easy way to help attract new customers and build relationships with customers you already have."
Google Posts appear in the knowledge box directly below the details for your company, offering up space for businesses to highlight special deals and events, top products or key services, all within the GMB listing. Google even offers up options for reservations, newsletter signup, latest offers, making a purchase, or learning more.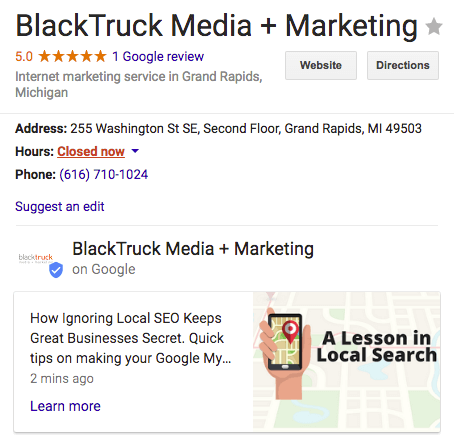 How Businesses Can Use Google Posts
While Google says Posts is a way to connect with customers directly, we view it as an opportunity to direct an individual straight to the most current news or relevant information pertaining to your brand.
Google Posts allow for up to 300 words of text written in a social media style post format, accompanied by a photo. Though the photo is optional, we highly recommend you use one to help your post stand out. Google Posts is very much a hybrid platform, blurring the lines between social, local search, and most certainly content marketing. In the future, this could even mean another channel for Google to monetize.
Use Cases By Industry
Don't let the small business moniker of Google My Business fool you; major brands and corporations should be taking advantage of Posts, as well.
Restaurants – While reservations and offers are an obvious choice for restaurants, don't limit yourself. Use this space to highlight your menu, or perhaps that Best Happy Hour award you just won.
Entertainment – From theatres to entertainment venues, using Google Posts to help promote the latest event at your location is a great feature. Get creative here and use the Reservations or Get Offer call-to-action to deliver a sense of urgency.
Retailers & Specialty Stores – Offers and deals are an obvious choice here as well, but why not schedule an Event for your next in-store promo event? Speciality retailers take note; this is the time you promote your post on "______ Trends for 2017." Put your content to work in ways you didn't think before.
B2C Service Companies – From local beauty salons to cleaning services, we could think of a hundred ways Google Posts can be used for service companies. Perhaps it's an offer for first-time customers, or you're a local thought leader on environmentally friendly cleaning methods; it's time to feature that content here just as you would on Facebook.
B2B Product & Service Companies – As with any B2B product or service, market to the human who's doing the search, not the company. Create posts that are the most relevant to the core of your brand and what it is you do. Individuals seeking your brand have been referred to you or they know of you already; remind them why.
Non-profits – This is another opportunity to tell your story. An individual is searching for your organization to begin with, so the likelihood of them knowing you is much higher. Get your message out there and gain a few more volunteers or donors.
Photo Size for Google Posts
Images are an optional feature that can help your post stand out. Here are some quick tips on formatting for the optimal outcome.
Google will ask you to crop your photo for Posts, and they're not upfront about the size it should be. But don't worry; we figured it out for you.
The view window for the cropped area is 456 x 344 (pixels). If you were to only use that size image, we can obviously expect to see some image render issues. Instead, we recommend that you set up your image to have a feature, title, or callout in an area that fits within the 456 x 344 window.
For Photoshop pros, this is as easy as creating another layer with crop marks so you know where your call-to-action should reside. 
The same concept can also be applied to those using tools like Canva.
Our Research & Initial Findings
Our initial research and testing of Google Posts show they publish fairly instantaneously or within a couple of minutes. Posts appear much faster on mobile devices, which is not shocking considering the large percentage of local searches that are performed on mobile. This plays directly into Google's push for Local Mobile Search (or is it "Mobile Local"?). We've also definitely gotten some direct traffic to our website through our test posts.
Mike Blumenthal also wrote on Google Posts, sharing that posts disappear from the knowledge panel 7 days after posting (which we found to be the case for our test) and that posts designated as events will display for the duration of the event. We found that selecting "Posts" on the mobile interface will display a history of posts beyond 7 days, though we're not sure yet how long these older posts will stay on the listing.
Blumenthal also noted that up to 10 recent posts will display in a carousel format in the knowledge panel, and that posts can be shared from the mobile interface to other social media channels, offering a quick way to share timely info with others.
Have you tried out Google Posts as a business? Have you seen them "in the wild" in your recent Google searches? Let us know what you think!